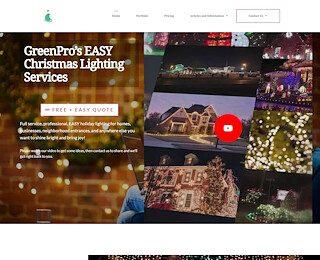 For the best outdoor Christmas lighting in Tulsa, get in touch with professionals from GreenPro Lighting Services when you want exceptional results. We can provide a hassle-free experience from start to finish if you have ideas for your home or commercial property to shine bright this coming holiday season. Christmas lights installation in Tulsa can be dangerous and complex; outsourcing your outdoor decorations and lights could be the best decision you make all year- contact GreenPro at 918-779-8982.
3 Ways GreenPro Lighting Services Can Make Christmas Merry
1. Our Tulsa Christmas lights and decoration installers do it all, from initial planning and budgeting to the final installation, taking all of your criteria into account to ensure your 100% satisfaction when we're through. If you typically spend a lot of time on your Christmas lights and decorations, you'll find that you have more time on your hands this year to enjoy the company of family and guests who stop by to visit, just by choosing us for the set-up.
GreenPro is more than just a light installation company- we are committed to working closely with each of our clients to achieve your personal goals. Best of all, we work throughout the entire year, so you won't have to wait until the last minute to show off your light exhibit to the community.
2. Do you have a unique theme in mind for this year's Christmas display? GreenPro offers a wide range of Tulsa Christmas decoration services, including decoration strategizing. Big or small, we can take your ideas or concepts from their initial stages to completion hen you hire us for your project.
Whether it's tree wrapping, 'burning' bushes, lighted shrubs, columns, entranceways to neighborhoods, condo lights, rooflines, walkways, or commercial Christmas decorations, we have the experience needed for every job at hand.
3. Here at GreenPro Lighting Services, our motto is 'go the extra smile'. We mean that in the most literal sense; our hard-working, dedicated light installers go to great lengths to make sure your building and property is bright and festive; light decoration companies like GreenPro are in the business of creating satisfied customers. Give us a call and let us know how we can make your Christmas lighting ideas come to life and sparkle like never before.
Affordable Outdoor Christmas Lighting in Tulsa
We have a light installation package to meet every budget- you may even find that leasing your Christmas light display from GreenPro saves you money year after year. By tossing out old and out-dated light strings and cords, you'll not only increase safety, but you'll also have more display options to choose from.
Check pricing on our website or get in touch with a GreenPro Lighting Services installation expert to request a free quote. It's never too early to start thinking about your Christmas light display; the fact is, holiday lights are always in style, whether it's mid-to-late December or the middle of August. You can see our handiwork in full-color photographs online at GreenPro Lighting Services.
Christmas Light Installation GreenPro Lighting Services
918-779-8982
7374 W 51st St
Tulsa
OK
74107
US